SOLD - 5350 Coral Vine Ln, Kissimmee, FL 34758
Posted by Roe Hampton Amar on Tuesday, June 6, 2023 at 8:27:24 AM
By Roe Hampton Amar / June 6, 2023
Comment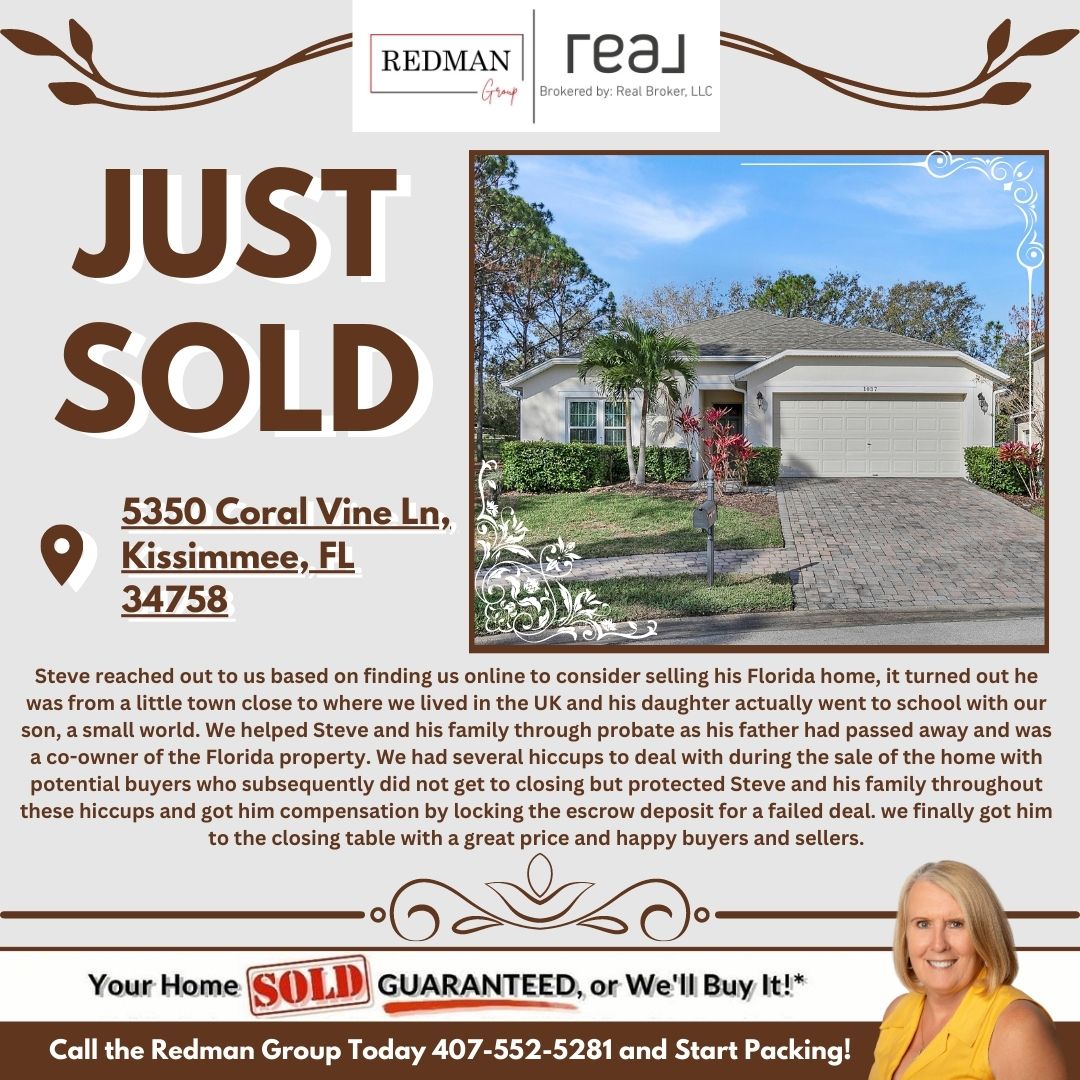 5350 Coral Vine Ln, Kissimmee, FL 34758
Steve reached out to us based on finding us online to consider selling his Florida home, it turned out he was from a little town close to where we lived in the UK and his daughter actually went to school with our son, a small world. We helped Steve and his family through probate as his father had passed away and was a co-owner of the Florida property. We had several hiccups to deal with during the sale of the home with potential buyers who subsequently did not get to closing but protected Steve and his family throughout these hiccups and got him compensation by locking the escrow deposit for a failed deal. we finally got him to the closing table with a great price and happy buyers and sellers.
Love Your Home GUARANTEED or We'll Buy It Back!!*
Thinking of buying?? For free consultation and access to off-market properties, contact us now at 407 552 5281.
#JustSold #RedManGroup #RealBrokerLLC #RedmanGroupBrokeredByRealBrokerLLC #RealEstateAgent #RealEstateBusiness #Realtor #GillianRedman #PaulRedman #OrlandoRealEstate #FloridaRealEstate #OrlandoHomes #FloridaHomes #Freedom #Certainty #IncomeIncrease #GoServeBig #SecondMileService #ElevatingtheLivesofRealEstateProfessionals #TopAgent #EliteAgent