5-Star Review
Posted by Roe Hampton Amar on Thursday, November 18, 2021 at 11:15 AM
By Roe Hampton Amar / November 18, 2021
Comment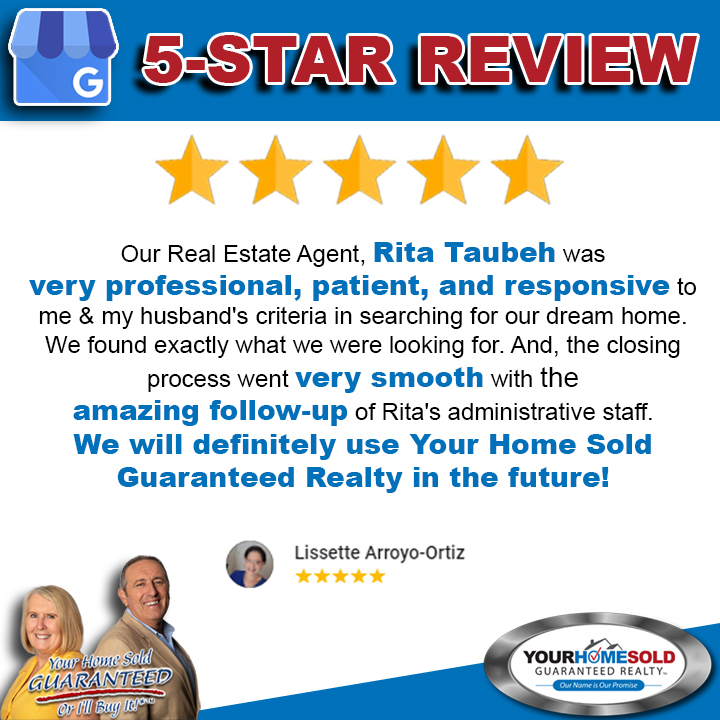 "Our Real Estate Agent, Rita Taubeh was very professional, patient, and responsive to me & my husband's criteria in searching for our dream home. We found exactly what we were looking for. And, the closing process went very smooth with the amazing follow-up of Rita's administrative staff. We will definitely use Your Home Sold Guaranteed Realty in the future!"
For a 5-Star Real Estate Service
☎️Call us now on 407-552-5281 and START PACKING!
#5StarReview
#Thankful
#Freedom
#Certainty
#IncomeIncrease
#GoServeBig
#SecondMileService
#ElevatingtheLivesofRealEstateProfessionals
#TopAgent
#EliteAgent
#MillionDollarAgent
#ToddWalters
#CraigProctor
#Sales
#Marketing
#YHSGR
#YourHomeSoldGuaranteedRealty
#RealEstateAgent
#RealEstateBusiness
#Realtor
#GillianRedman
#PaulRedman
#OrlandoRealEstate
#FloridaRealEstate
#OrlandoHomes
#FloridaHomes
#YHSGR
#YourHomeSoldGuaranteedRealty
#RealEstateAgent
#RealEstateBusiness
#Realtor
#GillianRedman
#PaulRedman
#OrlandoRealEstate
#FloridaRealEstate
#OrlandoHomes
#FloridaHomes