13 Best Places to Visit in Florida on Your Next Trip
Posted by Roe Hampton Amar on Wednesday, October 25, 2023 at 7:46:28 AM
By Roe Hampton Amar / October 25, 2023
Comment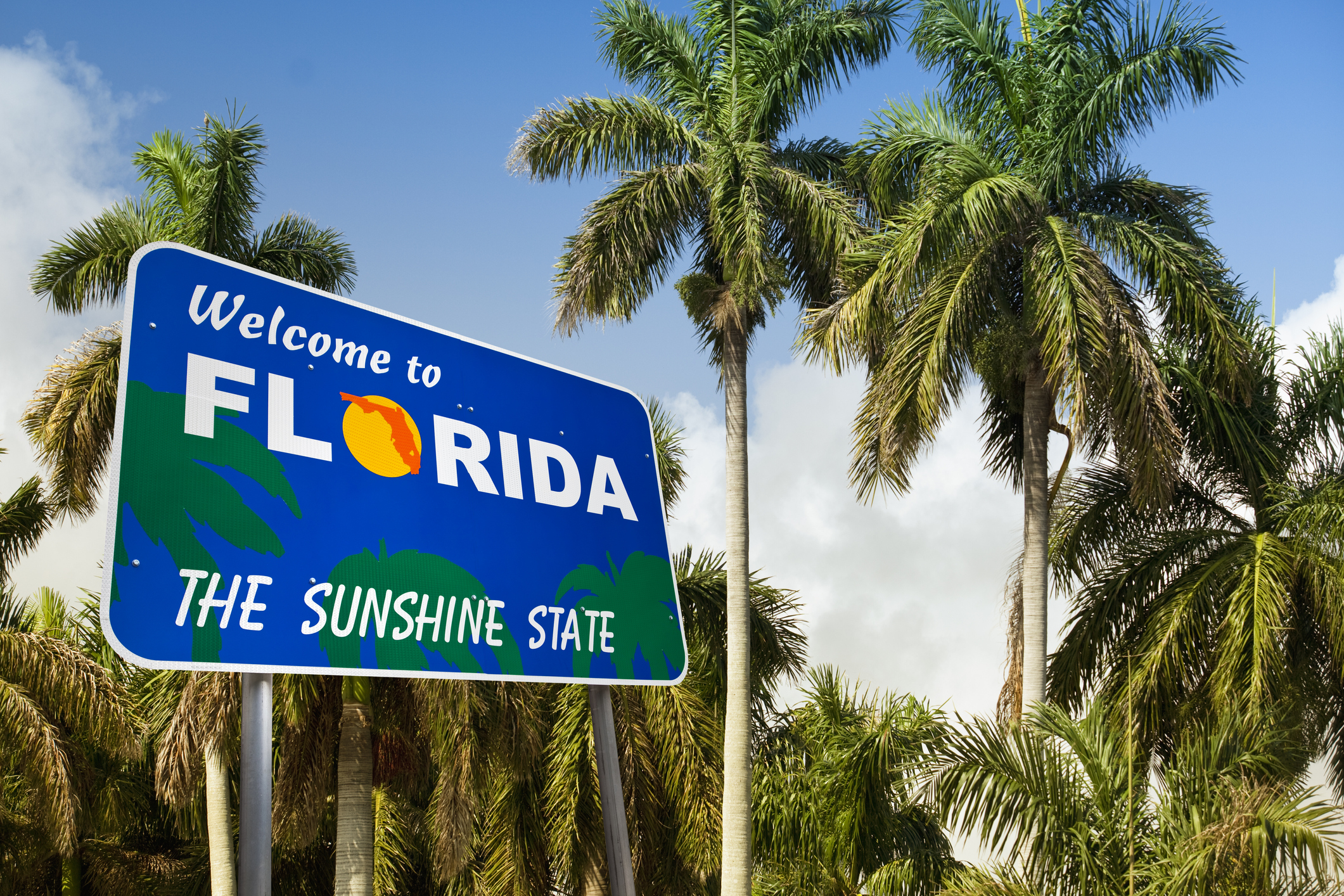 The Sunshine State has plenty to offer in addition to sand and surf.
Working in Florida's restaurants for more than 15 years (and at one point owning one myself), I've had a front seat view to everything from supper clubs seeded by farm shares to public houses sourcing from local makers. The burgeoning food scene is reflective of a state that's equally diverse: Mermaids (modern ones on Scuba) and manatees swim the waters in Central Florida, the "nation's oldest city" offers a look into the history of the northeast region, and fishing villages lost in time can be found along the Northwest Panhandle.
From the Sunshine State's 1,350 miles of coastline to the vibrant art scenes of its cities, here are the 13 best places to visit in Florida.
1. Miami
Location:

South Florida

Come for:

inclusive initiatives and public art
South Beach holds the crown for exciting nightlife, but don't count out the fine dining scene—Michelin-starred restaurants dot Miami's art deco landscape. With Cuba only 90 miles away, Calle Ocho in the heart of "Little Havana" serves up mouthwatering croquetas and salsa music in the city where bars close at 5 a.m. Public installations abound in once blighted neighborhoods, transformed in 2013 into hubs of local art and design like the Wynwood and Design District.
Exploring Miami's glitzy bars, iconic boardwalk, and world-class beach is easy thanks to its inclusivity efforts. Accessible mats are available at more than 20 locations along Ocean Drive, and beach wheelchairs with big, nubby tires can be checked out at a number of locations along the route year-round.
Where to stay
Located in the heart of South Beach, this 1940s art deco property exudes elegance throughout its 130 rooms and suites, two pools, 25,000 square feet of public space, and a library (in case you forgot your book). The Betsy also plays host to a curated selection of public art during Miami's Art Basel.
2. Key West
Location:

Florida Keys

Come for:

six-toed cats and laid-back island lifestyle
Known as the place to gather for sunsets, Key West has shipwreck and maritime museums worth checking out (in addition to mouthwatering conch fritters). Mallory Square's cobblestones fill with street performers doing magic, telling fortunes, and busking as the sun descends over the water. Tucked behind the main street, Hemingway's six-toed cats rule his legendary house, and local musicians gather at hidden venues like General Horseplay to jam.
Just over the Seven-Mile Bridge from Marathon, Key West's mangroves hold secret paths for kayakers, and ghostly shipwrecks rest 145 feet below the surface (try diving with Captain's Corner). After a day of snorkeling with the fish, order a Rum Runner cocktail and toast another day in paradise.
Where to stay
With a prime location at the end of Duval Street and a stone's throw from the Southernmost Point, this boutique resort features three pools and the best sunset view around. The rooms feature rattan furniture, wide-planked driftwood floors, and roomy balconies to make a cozy retreat.
3. Naples
Location:

Southwest Florida

Come for:

world-class golf courses and 100+ art galleries and museums
With over 100 galleries and museums featuring everything from Seminole and Calusa history to automobiles, Naples has plenty for art enthusiasts. Don't miss a show at the performance venue Artis-Naples, affectionately known as the Phil by locals.
Shelling is spectacular along Naples's pearly white coast, but for some true Florida wildlife, visit the Conservancy of Southwest Florida, a nature center with a wildlife hospital that treats injured and orphaned native animals.
Where to stay
Located steps from Fifth Avenue's palm-fringed streets and high-end boutiques, the ritzy Inn on Fifth offers lavish Club Level Suites, two restaurants, a full-service spa, and a rooftop pool and bar where you can take in Naples Bay.
4. Palm Beach
Location:

Southeastern Florida

Come for:

beautiful architecture and celebrity spotting
Movie stars, finance tycoons, and even royalty have graced the barrier island located on the southeastern side of the state. Chocked full of Mediterranean revival and Venetian-inspired architecture, Palm Beach captures a Gilded Age feel in historic landmarks like the Flagler Museum.
For innovative programming and community engagement opportunities like opera workshops open to the public, visit the Society of the Four Arts along the Intracoastal Waterway. Its 10-acre campus includes performance hall, art gallery, education center, libraries, and sculpture gardens.
Where to stay
This pink-hued charmer has offered chic accommodations for guests like Judy Garland and John Lennon since 1947. Only feet from the sand, the vintage Floridian decor coupled with amenities like beach cruisers, beach butlers, golf, tennis, boating, babysitting services, and pet services make this a getaway the place to be seen.
5. St. Petersburg
Location:

Pinellas Peninsula on Tampa Bay

Come for:

thriving arts community and international food scene
The city's heart has a network of neighborhoods with eye-catching murals and walkable streets. Some of the best opportunities to see art are at the Dalí Museum, home to more than 2,400 pieces by surrealist artist Salvador Dalí, the Museum of Fine Arts's Monet collection, and the Morean Arts Center, which houses a Chihuly Collection of 18 glass sculptures.
St. Petersburg city is also a short bridge ride away from St. Pete Beach, a barrier island that is great for a relaxing day on the sand or a day of snorkeling (check out Island Ferry Eco Tours).
Where to stay
The name of this 1928-opened hotel comes from the William Vincent Wallace opera Maritana, and remnants of the musical masterpiece can be found throughout the grand halls and rooms of the Don CeSar. Elegant dining and imbibing options reside on-site and a full-service spa offers relaxation to weary travelers.
6. Crystal River
Location:

Western Central Florida

Come for:

manatees and mermaids
Sure, Florida beaches are beautiful, but locals know the state's magic lies in the more than 1,000 natural springs found around the state—and many can be found in Crystal River. The city hosts a tapestry of state parks, and national wildlife refuges that make excellent spots for bird watching.
For more nature, Crystal River is a short drive to Weeki Wachee State Park, an attraction that's home to the state's deepest freshwater cave system. The live mermaid shows are the main draw—they perform a version of Hans Christian Andersen's Little Mermaid submerged in the 400-foot amphitheater.
Where to stay
This lodge lies surrounded by the natural springs of King's Bay and more than 25,000 acres of lakes and rivers, wildlife refuges, and state parks. The nature lover's sanctuary has a full-service marina, 18-hole golf course, and restaurants offering "cook your catch" options.
7. Highway 30A
Location:

Northwestern Coast

Come for:

rare coastal dune lakes and underwater museums
This brief 24-mile stretch of scenic byway hugging the Gulf Coast hides a haven of singing bartenders and eclectic festivals like Crafted and Digital Graffiti. One stop worth taking on a 30A roadtrip is the Underwater Art Museum in Grayton Beach—the museum offers a one-of-a-kind dive experience where those willing to brave the depths can swim among sculptures that are chosen and sunk each year.
Another noteworthy feature of 30A's sliver of the Emerald Coast: Here you can see coastal dune lakes (rare ecological wonders found only in a few spots around the world).
Where to stay
This old Florida rooming house in Grayton Beach feels like a step back in time. The 13 rooms each feature their vintage Floridian personality with framed old maps and model ships transformed into lamps. The stay is wheelchair accessible and includes breakfast. Don't miss yoga or open-mic storyteller nights in its "Backyard of Love."
8. Apalachicola
Location:

Northwestern Coast

Come for:

oysters and old fishing village vibes
Swathes of untouched coastline and shacks serving addictive smoked fish dip can be found along Franklin County. One of its cities, Apalachicola, is a working fishing village where you can glimpse fishermen and oyster farmers on the docks.
The welcoming port town located at the mouth of the Apalachicola River has been recognized as a "distinctive destination" by the National Trust for Historic Preservation because of its character and dedication to historic preservation, among other reasons.
Where to stay
Listed on the National Register of Historic Places, this 1907 landmark turned modern boutique hotel features elegant wraparound porches and chic guest rooms.
9. Orlando
Location:

Central Florida

Come for:

theme parks and huge network of lakes
Can you talk about Florida without mentioning Disney? The House of Mouse has been an Orlando destination since 1971. Days can be spent riding the barrels in Frontier Land at Walt Disney World, but there's also wizarding with Harry Potter at Universal Studios and communing with orcas at Seaworld—the theme park game is strong in this city.
Beyond the glitzy entertainment at the theme parks, Orlando has more than 100 lakes—check out Lake Apopka, which covers 30,000 acres, for a peaceful respite.
Where to stay
Inspired by a traditional African kraal, the lodge exudes safari with its panoramic views of four lush savannas populated with over 30 species of African wildlife and African art at every turn. Plus, you never have to get in your car; complimentary buses and shuttles will whisk you around the park.
10. St. Augustine
Location:

Northeast Atlantic Coast

Come for:

historic sites and ghost tours
Known as the "nation's oldest city," with roots back to 1565 when it was settled by Europeans, St. Augustine offers plenty of tours that take you back in time: Hop on an Old Town Trolley Tour to hit more than 100 points of interest, including Ponce de León's Fountain of Youth Archaeological Park where you can take a sip of the legendary immortality-imbuing water.
Located along the northeast coast, St. Augustine has a pedestrian-only thoroughfare and wonders like the Castillo de San Marcos, a Spanish stone fortress dating back to the 1600s, designated a national monument. Get lost on St. George Street—antiques and funky boutiques await.
Where to stay
Situated downtown, this luxury inn features nine historic buildings and 30 guest rooms that incorporate the history and architecture of the property's 18th-century construction. The courtyard, bricked paths lined with statues, and amphitheater create a multisensory retreat steps from the bustle of the city's attractions.
11. Amelia Island
Location:

Barrier island on Northern Atlantic coast

Come for:

uncrowded beaches and horseback riding on the sand
With 13 miles of unspoiled beaches and Spanish-moss-draped oak trees, this barrier island feels more like a lost-in-time Southern retreat than its palm-lined brethren further south. The quartz-filled sand beaches are framed by 40-feet-tall sand dunes—horseback riding along the dunes offers another vantage point of the natural paradise.
Beyond the beaches and coastal recreation, Amelia Island is also home to the oldest lighthouse in Florida (first lit by whale oil in 1838) and Florida's oldest bar, the Palace Saloon.
Where to stay
Located right in downtown Fernandina Beach on Amelia Island, the Amelia Schoolhouse Inn served as a school from 1886 until the late 20th century. The boutique hotel has kept historical features like original windows and heart pine floors, but coupled with modern amenities like on-site mini golf and an upscale bar, the Principal's Office.
12. Pensacola
Location:

Northwest Florida

Come for:

historic downtown and exceptional scuba diving
Pensacola's Historic Downtown packs in a bevy of museums and places dedicated to art. Opened in 1925, you can catch a show at the Saenger Theatre or pop into Electric Serenade for a private karaoke party. If you're looking for adventure, book a dive trip to the USS Oriskany (a sunken aircraft carrier that's now the largest artificial reef in the world).
Over the bridge, the federally protected Gulf Islands National Seashore is home to osprey and great blue herons, dolphins, sea turtles, and stingrays. Don't miss the Futuro House (otherwise known as the "UFO House"), another iconic Florida roadside attraction that's been around since the 1960s.
Where to stay
Walking distance to Pensacola's vibrant downtown, this boutique hotel nods to the city's history and artists with its record players and custom vinyl collections in every room. In addition, the stay has a wood-fire restaurant and secret speakeasy in the basement where Sunday school classes were once held.
13. Everglades National Park
Location:

Southern tip of Florida mainland

Come for:

spotting endangered species and outdoor recreation
It's hard to believe Miami's glittering boundaries are an hour from the coastal mangroves and murky swamps of Everglades National Park. Trails for biking, hiking, and bird-watching snake through the Everglades, but going by water is the best way to experience this park, which is also a UNESCO World Heritage site and International Biosphere Reserve. Take a guided airboat with Gator Park or kayak tour to learn more about the delicate ecosystems and abundant wildlife in the park.
Where to stay
Camping (or glamping) immerses you in the serenity of this wild landscape. Located at the Homestead park entrance, you can access this unplugged escape with 274 tent sites, 65 RV sites, and glamping Eco-Tents. Houseboat rentals are also available from Flamingo Marina, where up to six guests can sleep on Whitewater Bay surrounded by croaking frogs and singing cicadas.